Last Updated on August 14, 2020 by Henry @ The Getaway Lounge
This post is reviewed on a regular basis to ensure a high level of accuracy.
The 5 Best Hand Luggage Bags for easyJet Flights
If you're flying with them any time soon, you might be wondering what the best hand luggage bag for easyJet is.
This will of course depend on your budget, the type of trip you're going on and other factors such as whether you'd prefer something lightweight or more solid.
So, in this post we'll try and cover all bases and drill down on the best value bags that fit within easyJet's limits.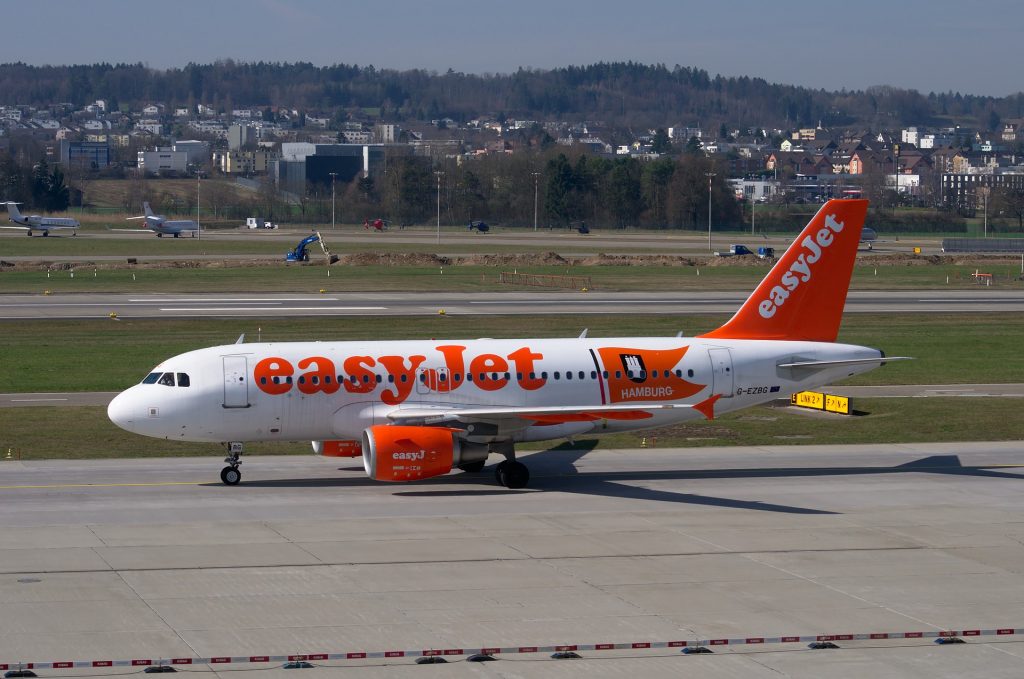 Best overall hand luggage for easyJet flights
We've listed our favourites for different needs below, but the Eastpak suitcase is our top overall pick for the following reasons:
Street-smart and functional
Incredibly durable and hard wearing with a reassuring 30 year warranty
Huge 42L compartment, fitting nicely within easyJet's limits
Handy compartments for easy organisation
Plenty of colours to choose from
Last time we checked you could grab one of these suitcases on Amazon for around £60 – but you check the latest price here.
Key specs – Dimensions: 51 x 32.5 x 23cm; Weight 2.5kg; Capacity 42L; Number of wheels: 2
easyJet's hand luggage allowance 2020
As one of the UK's favourite low-cost carriers – easyJet have a fairly generous hand luggage policy like so:
---
56 x 45 x 25 cm (including any wheels or handles) with no weight limit
---
easyJet's smaller bag policy
One restriction with easyJet is that you cannot take an additional smaller bag on board to accompany your main hand luggage.
So, handbags for instance will have to be squeezed into your main hand luggage whilst you go through the gate.
Some smaller items are allowed however, such as umbrellas, overcoats, crutches and one duty-free item.
easyJet hand luggage liquids
Like all major airlines, easyJet allow liquids in your hand luggage as long as they are contained with a volume of no more than 100ml.
In addition to this, all liquids must be held in a transparent, resealable plastic bag.
For more details regarding easyJet's latest hand luggage allowance you can check out their website here.
How to choose the best hand luggage for easyJet flights
This depends on the type of traveller you are, and there are various considerations to keep in mind.
For example, a backpack might be best for those who plan on travelling from one place to the other.
They tend to be lighter than standard suitcases and will fit neatly beneath the seat in front of you.
What's more, your bag can be used from the airport for beach days, city tours and whatever else your trip throws at you!
On the other hand, they can be strenuous to carry on your back for prolonged periods, and it's not quite as easy to keep your luggage organised.
The wheeled suitcase is certainly easier to carry around on flat surfaces but lacks versatility on arrival.
That said, if you're staying in the same hotel for the duration of your stay then this might be your best bet.
Ultimately, you'll want to strike a balance between practicality and portability depending on your travel style.
The 5 Best Hand Luggage Bags for easyJet flights
American Tourister Bon Air Spinner: the best hard-shell suitcase for easyJet
Made from 100% polypropylene, this hard-shell case is strong and sturdy but surprisingly light and easy to manoeuvre.
Available in a range of colours, all with a sleek ridged design, the American Tourister Bon Air Spinner is both functional and fashionable.
Inside there are two roomy sections: a zipped compartment with two outer mesh pockets (great for liquids) and an open-sided area that can be secured with elastic ribbons.
The four wheels make for smooth 360-degree rolling and for added security there's a fixed three-digit lock and a discreet address label at the back of the case.
Last time we checked it was around 50% and you'll find the latest price on Amazon here.
Key specs – Dimensions: 55 x 40 x 20cm; Weight: 2.5kg; Capacity: 31.5L; Number of wheels: 4
Eastpak Tranverz S Wheeled Luggage: the best soft-sided suitcase for easyJet
Eastpak is well known for its street-smart and functional rucksacks and cases. Having initially produced bags for the US military, it knows a thing or two about producing durable, hard-wearing pieces, and all cases come with a reassuring 30-year warranty.
This two-wheeled case features two large inner compartments, making it easy to organise your gear, and a handy front pocket for smaller items such as passports, iPads and chargers.
There are loads of colours and designs on offer, too, from business-friendly black to bold graphic prints.
You can check the latest price on Amazon here.
Key specs – Dimensions: 51 x 32.5 x 23cm; Weight 2.5kg; Capacity 42L; Number of wheels: 2
Aerolite Hard Shell Carry On: the best budget suitcase for easyJet
Great value for money, this suitcase is our top pick for those working within a fairly tight budget.
It might not last as long as the other suitcases, but if you're not a really frequent flyer this might not worry you too much.
It's available in a couple of different colours with sleek ridged designs – and the last time we checked you could get one on Amazon for around £30 here.
Key specs: – Dimensions: 55cm x 35cm x 20cm; Weight 2.6kg; Capacity 34L; Number of wheels: 4
Cabin Max Metz Travel Backpack: the best budget backpack for easyJet flights
Designed in the UK, this compact carry-on backpack weighs less than 1kg but is deceptively roomy, with a 44-litre capacity.
It opens like a suitcase rather than a traditional rucksack, so you don't need to squish all of your gear into it from the top down.
It's functional rather than fashionable (although there are 30-plus colours/designs to choose from) and it's not as robust as some of our other picks.
However, for a no-frills, cabin-friendly bag to accompany you on for a getaway, you can't go wrong with this budget buy – last priced around £30 on Amazon here.
Key specs – Dimensions: 55cm x 40cm x 20cm; Weight: 0.7kg; Capacity: 44l; Number of wheels: 0
Osprey Transporter Backpack: the best quality backpack for easyJet flights
The Transporter 40 is an easyJet carry-on compatible duffel with a difference in quality.
Perfect for those who like to explore on their holidays, the rugged construction mean your gear and clothing will remain in tip top condition with impressive water resistance also.
A backpack style carry harness and side carry option means you can haul your gear with ease and the 4 sturdy grab handles allow you to pick up or lash down your duffel.
It was last available on Amazon for around £70, but you'll find the very latest price here.
Key specs – Dimensions: 53.5cm x 30.5m x 27.9cm; Weight: 1.2kg; Capacity: 40l; Number of wheels: 0
easyJet Hand Luggage Comparison Table
Check the latest price of each using the links above.
How strict are easyJet with hand luggage?
As a budget airline, there's no surprise that easyJet are relatively strict with hand luggage.
If you're caught with an over-sized bag, the penalties will be significant and so we recommend investing in one that will last you for years to come.
It's always better to be safe than sorry, and so we recommend one of the bags above.
What can you take in hand luggage on easyJet?
If you're not 100% sure on what you can take in hand luggage for an easyJet flight, be sure to check out their restricted items page.
The best hand luggage bags for easyJet – conclusion
As illustrated above, there are a number of different styles to choose from depending on your budget and type of trip.
We hope our top picks help you find something suitable for your upcoming flight with easyJet.
And if they don't tickle your fancy, you can always check out the best sellers in hand luggage on Amazon – the vast majority of which fit within easyJet's limits.